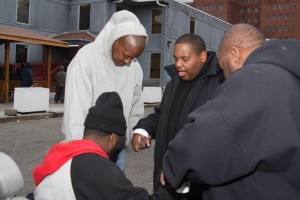 Today was one of many days where I just love being the Pastor of The Heights!
I'm so proud of where we are as a church and so excited about where we're going! We're on the brink of something huge, and the pieces are falling into place.
Today my big brother and good friend Pastor Darryl Godlock of Calvert County Baptist Church shared God's Word with us.
I don't just throw that term around. I have a handful of men that I call,"Big Brother." These men pour into my life and encourage me like crazy. I'm so grateful for them.
Pastor G's message was "Giving God Your Best" from Psalm 116. What a timely message after we just finished the "All Aboard" series. The audio is available on our website. Click here to take a listen.
Having Pastor G step in for me today was an amazing blessing. I needed this week to concentrate on my dissertation work for Regent University. I cleared a major hurdle Saturday by turning in Chapter 3 of my dissertation to my committee chair after a week of hard work.
Chapter 3 is the longest and most grueling chapter. It took me much longer than I thought to complete it, but I'm so glad to see the light at the end of the tunnel.
Our Men's Praise Team was on fire today! First time I've EVER seen the congregation call for an encore! LOL.
I'm so proud of how our band has come together. I don't know of any church in the DMV who has a band as talented and committed without breaking the bank to pay for it. All of our musicians play because they love God and they love The Heights… without expecting a check!
I heard that we had an incredible turnout for our Homeless Feeding Outreach on Saturday. We had several people sign up during the All Aboard series. I'm proud to see that they followed through.
Have you hit me up with me on Facebook, Twitter and Instagram? I'd love to connect with you through social media.
Thanks for your prayers for Levi. He had a successful surgery this past Monday. Hopefully this procedure will help him to walk better. He has a cast on his lower leg that will stay on for 6 weeks, and a brace that goes above his knee that will stay for 2 weeks. Please continue to pray for my big guy.
I'm excited about next month's WYCB Praise Breakfast where I will be honored among 20 Impactful Pastors in the DC area. What an amazing honor! I'd love for you to grab a ticket and spend the morning of March 16th hanging out with me!
Have a great week!