Meet Our New Youth Minister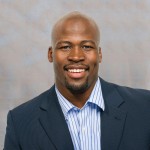 Milton Harris III first accepted Christ at the age of eighteen when he decided to join First Baptist Church of Glenarden (FBCG). This was not a quick decision; growing up he was confronted with obstacles that many teenagers face which caused him to question God's existence.
He actually spent two years attending services as a visitor before making the life changing decision to give his life to Christ. Milton says, growing up he knew of God, but never had a relationship with Him until this point.
After joining First Baptist Church of Glenarden in 2001, his spiritual journey began, but slowly. After five years of studying and strengthening his walk with Christ at First Baptist of Glenarden's Bible Institute, Milton accepted the calling he knew God had placed upon his life for preaching the Word of God.
More recently, Milton served as a lead communicator for First Baptist of Glenarden's youth ministry 'Merge'. He also serves as the Spiritual Resources Director with the online ministry 'Disciples Thru Media', which is a ministry that exists to produce life change by educating, training, and discipling people through multi-media venues.
Sensing a thirst for Godly male fellowship amongst his male friends, in 2012 Milton founded and led 'Alpha Male', a small group that helps develop men into Godly leaders, through the sharing of life experiences, leadership and biblical principles.
Milton is passionate and dedicated to helping raise up a generation of anointed young people, who are unashamed to live for Jesus Christ.
Milton received a Bachelor of Arts degree in Criminal Justice from the University of Maryland, College Park. He and his wife of eight years Tracy, reside in Brandywine, MD with their lively five year old son, Jayden.
Be sure to give him and his lovely family a big 'Heights' hug when you see them!
Categories:
Blog