Pastor Bobby's Brain Dump
I knew today was going to be incredible… But I didn't know it would be THIS good!
I've been looking forward to this day for weeks. With today being the first day of the NFL season and the Sunday after Labor Day (usually a high church attendance day), it was the perfect storm… And we made the most of it at The Heights!
For the 3rd time this year, we had a "Family & Friends Day." I've been challenging our members to invite people to church today. The prize for the person who brought the most 1st time guests was a $100 Visa Gift Card.
We've done this 3 times this year and it works like a charm! People get so competitive. LOL.
Also, of the 3 times we've done this, this is the second time that the person gave the gift card back to the church because they were so excited & thankful just to have their family at church! Wow!
Taking advantage of the high excitement of the new football season we had football themes throughout the day. Including a tailgate party after worship with great food and great football games on the big screen!
I began a new series today entitled "Equipped," and had been planning for week's to do a visual illustration in full football equipment.
I pulled it off. Helmet, pants,  pads, cleats, Under Armor padding, shoulder pads, gloves, eye black… Everything! Man, this message was SO MUCH FUN to preach.
The reaction of the people when I came from my office into the sanctuary was priceless. Members of our praise team had to hold in their laughter just to finish the song!
Shout out to Terry from District Heights Boys & Girls Club who let me borrow football equipment for today.
Today's message was from the Ephesians 6 passage about the whole armor of God. "Walk out the door equipped for WAR."
I get a huge rush seeing people get saved or rededicate themselves to Christ at the Heights. What a great response to the gospel today!
You can listen to the message by clicking here. The audio doesn't really do it much justice. We'll try to get the video up sometime soon.
Next week we'll continue this series as we start breaking down the pieces of the armor. Bring a friend and meet me there.
What could make a great day greater? Yep, the Redskins handling the Saints in RGIII's pro debut!
I travelled to Little Rock, Arkansas this week with Pastor Jenkins to celebrate the Pastoral installation of my friend Pastor Phillip Pointer at St. Mark Baptist Church. It was a great trip although I was exhausted when we got back.
Last Thursday was Part 2 of our Back to School Night Takeover. This time, we showed up at District Heights Elementary School to give away backpacks of free school supplies. What a great night. I'm so proud of our crew who turned out in great numbers to show love for our community.
My little brother Dillon is playing little league football for the same team that I played for when I was his age. Watching him play brings back so many memories.
Have a big week ahead with plenty of work to do. Hope you have a GREAT week. Remember to walk out the door equipped for WAR!
Love y'all!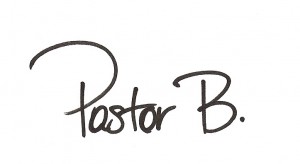 Categories: Blog, News