.
Where are you on your Spiritual Journey?
~by Celine Parker
You know the way to the place where I am going." Thomas said to him, "Lord, we don't know where you are going, so how can we know the way?" Jesus answered, "I am the way and the truth and the life. No one comes to the Father except through me." John 14:4-6 (NIV)

Where are you in relation to the cross? Last Sunday, Pastor physically demonstrated seven (7) possible positions that I could be in with relation to the cross. As I ponder where I am right now, I've been challenged to take the necessary steps during the month ahead to go to the next level. Hmmm… Where am I? –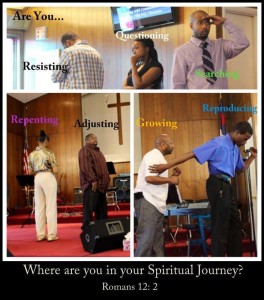 RESISTING? This is a person who is aware of God, but not interested. Ephesians 4:17-18 describes this person as someone who is disconnected from God.  Also, in my personal study this week I came across a point to ponder.  Even though I may think that this doesn't describe me, I could be resisting God by not accepting all that He has for me and is telling me.  In Acts 24:25, Felix basically tells Paul, "That's enough. That's all I'm comfortable with." I need to accept God's will completely in order to get and remain close to Him.
QUESTIONING? "I'm spiritual, not religious." This person knows that there's more to life, but has some misunderstanding and hasn't met a Christian who could adequately answer their questions.  They may believe that 'all roads lead to God,' and 'I can find my way on my own.'
SEARCHING? Believes in God intellectually, but realizes that they need guidance.
REPENTING? This is someone who realizes their sin and is ready to jump in with both feet and turn their life over to Jesus. This is the point where someone declares Jesus as their Lord and savior and becomes saved, by believing in their heart that God raised Jesus from the dead to cover their sin. (Romans 10:9-10) This is probably the most excited a person is in their faith, and possibly when they're most annoying to those who are resisting and questioning. They know Jesus, but can't quite point others in the right direction to the answers to their deeply held questions and doubts.
ADJUSTING? Making Jesus first by reading, understanding, sharing with others what you've learned from the Bible. This is the point where I'm noticing parts of my life that are not consistent with the Bible.  The Holy Spirit is convicting me to make some changes.
GROWING? One who is making Jesus the center of their life by running everything that happens in my life through Him, and having deeper relationships with other believers. Here is where I'm letting the Holy Spirit have its way in me and exposing myself to teaching; where transformation begins. (Romans 12:1-2) I'm actually seeing where I've gained victory over things, by not wanting to do the things that I used to do before my salvation. I have a prayer and accountability partner. I need a prayer and accountability partner, a spiritual mentor.
REPRODUCING? This is the person reaching back to help someone else move closer to God in their journey; perhaps one who is resisting, questioning or searching. They are fasting, doing deep study of God's Word, making sacrifices, sharing their faith, giving generously of their time and resources, and connected in church.
You may see yourself in one place, in between, or in a combination, I know I do. Will you accept the challenge?  If so, prayerfully consider– Wherever you are in your spiritual journey, strive in the next month to get to the next level.
About the Blogger
Celine Parker is a native Washingtonian and a member of First Baptist Church of District Heights where she is actively involved in several ministries. She attended DC Public Schools and University of Maryland University College where she earned a B.A. in Business Management. She enjoys learning, reading, movies and writing about her experiences with God. She resides in the Washington DC area with her beautiful daughter, Darynn.
Categories:
Blog